Who or what is Anisch de la Cara?
Anisch de la Cara is a company specializing in handmade jewellery made from traditional materials of ancient cultures.

Our workshop is in a small fishing village in Spain. We combine here today traditional ideas with new, modern ideas into meaningful jewellery.
The versatile cultures combine themselves handcrafted in the jewellery collections and unite the world in a peaceful way. Thus, legendary talismans, magical lucky charms and gifts with statement are created – exclusive unique pieces, with dedication.

But we aren't "just" a jewellery label: with the character of "Anisch" we also tell a story. This is the story of the peaceful rebel Anisch de la Cara, who roams the world in search of ancient knowledge, traditional materials and powerful symbols of different cultures, in order to bring these important treasures to the modern man. For: "the key to happiness is also in the old knowledge".
"The world needs more individualists who
don't simply emulate any trends."
From the first day with dedication
The story began in 2010 in Germany. After many years in common in the jewellery industry, we, Anja Kaldek and Peter Müller, were inspired by the idea of offering people jewellery and gift ideas with a message: handmade unique jewellery made of traditional materials, lucky charms and talismans from ancient cultures, optimized for the present time. As an artist and artist, Anja (Anisch Soul) delivered the concepts and designs. Peter (Peaceful Head) took over the organization and technology for Amazon, online and dealer shops.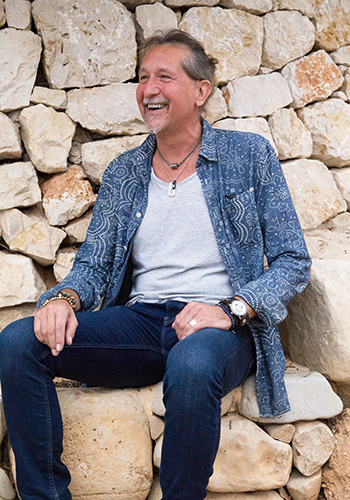 Anisch sees the light of the world
We want to offer people not only unusual and beautiful jewellery, but also bring near spiritual visions and ancient knowledge of other cultures in a nice and uncomplicated way. It has always been a popular method to spread truths and secret knowledge through fables and fairy tales. Thus, arose the idea of creating the lovable character Anisch de la Cara, which from time to time brings us some important symbols, old traditions and ceremonies.
Impressed by the knowledge of ancient cultures
Our first collections emerged on the basis of two very powerful cultures:
Tibet: Tibetan Wish Collection
When Anja came up with the idea of creating bracelets from Tibetan prayer flags, she almost crackled in the air. Our desire for a jewellery that would be different, had come true for the first time.
Indien: Spirit of India Collection
To recycle Indian saris and design fabulous jewellery was the next idea. The ancient Indian culture, with its healing arts of Yoga and Ayurveda, offers so much knowledge that it was easy to develop a versatile collection.
The workshop in Spain
In 2013 came a significant step for us: our emigration and the transfer of our company headquarters to Spain. A further heart's wish was fulfilled. The Spanish lightness and the creativity that expressed itself more joyfully under the Spanish sun, were the reasons why Anisch de la Cara is now popular throughout Europe.